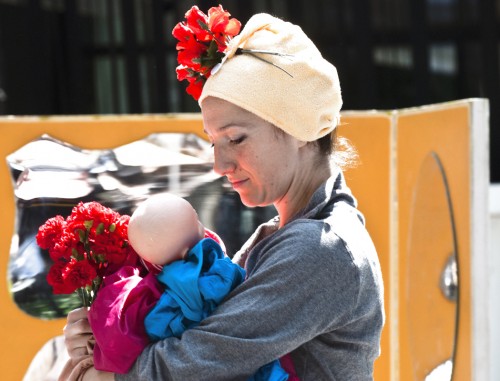 23 Oct

Another Reason to be Chearful

It will come as no surprise to those of you who know the company off-stage that we are very conscious of our role as a female-led company in the performing arts. We believe everyone, men and women, single or otherwise, parent or not, should have the best chance they can have to pursue the career of their choice without sacrificing their relationships, their family or their sanity. This is particularly hard for touring artists, especially women with very young families, but we do our best to help make it happen.
This summer we've been on tour with two babies under two, along with their sleep deprived Mums. When we were planning this great endeavour we were aware that it was asking a lot for the rest of the company to share their, already arduous, long van journeys with two tots, and we were prepared to swallow a lot of the extra costs incurred from added hotel rooms (we asked them to share a van, a bedroom seemed too much, and we needed somewhere for the babysitters to sleep) and travel costs. But we wanted to work with the best performers we could, and we weren't going to compromise our performance because the right people were also mothers.
But ultimately we have been amazed again and again by how helpful, patient, welcoming and accommodating our team and the many festivals we have visited have been. Almost every event we have performed at have happily covered the extra costs and logistical wrangling of cots, babysitters and peculiar travel arrangements without a question. And for that we thank them all.
For those of us that are office bound we are only relying on each other for that grace but it seems obvious to us all that a happy team is a productive team. Of course you can start late to drop your baby off at nursery, of course you can work from home when you do a half day – 2 hours of travel time for 4 hours in the office is just a waste of your valuable personal time. The issue of flexible working often raises a question of trust, but I think it's the wrong question. People say, but how can I trust my employees to work if their at home? How can I trust them to not take the piss if I let them start at a flexible time or work around personal commitments? My question is why would an employee work hard for you, give you their loyalty and expertise, if you don't trust them to manage their time and commitments and make sure the job is done to the best of their abilities?
The balance isn't always right for those of us that run Mimbre, as we can attest when we're burning the midnight oil after the babies are in bed, but we offer what support we can as a small company.
We are very pleased to say that support has now been recognised, and at a ceremony last month we were announced as one of the Top Ten Family Friendly SME's (Small to Medium sized Enterprises)in the country! The event, run by Working Families, was a very serious affair in the city, not our comfort zone, but that makes us all the prouder that this funny little performing arts company were being recognised alongside organisations like RBS and Ford for their contribution to the work-life balance of Britain.
We work hard at it, it costs us money and time, but ultimately we want to work with the best, and we're only at our best if every element of our lives is given the time and energy it needs to thrive. We are incredibly fortunate to have careers in a field for which we are passionate, but that doesn't mean our husbands, partners, girlfriends, friends and children get to take a back seat to our work, and our passion for our work is all the stronger when all of the other passions in our lives have the time to be nurtured.