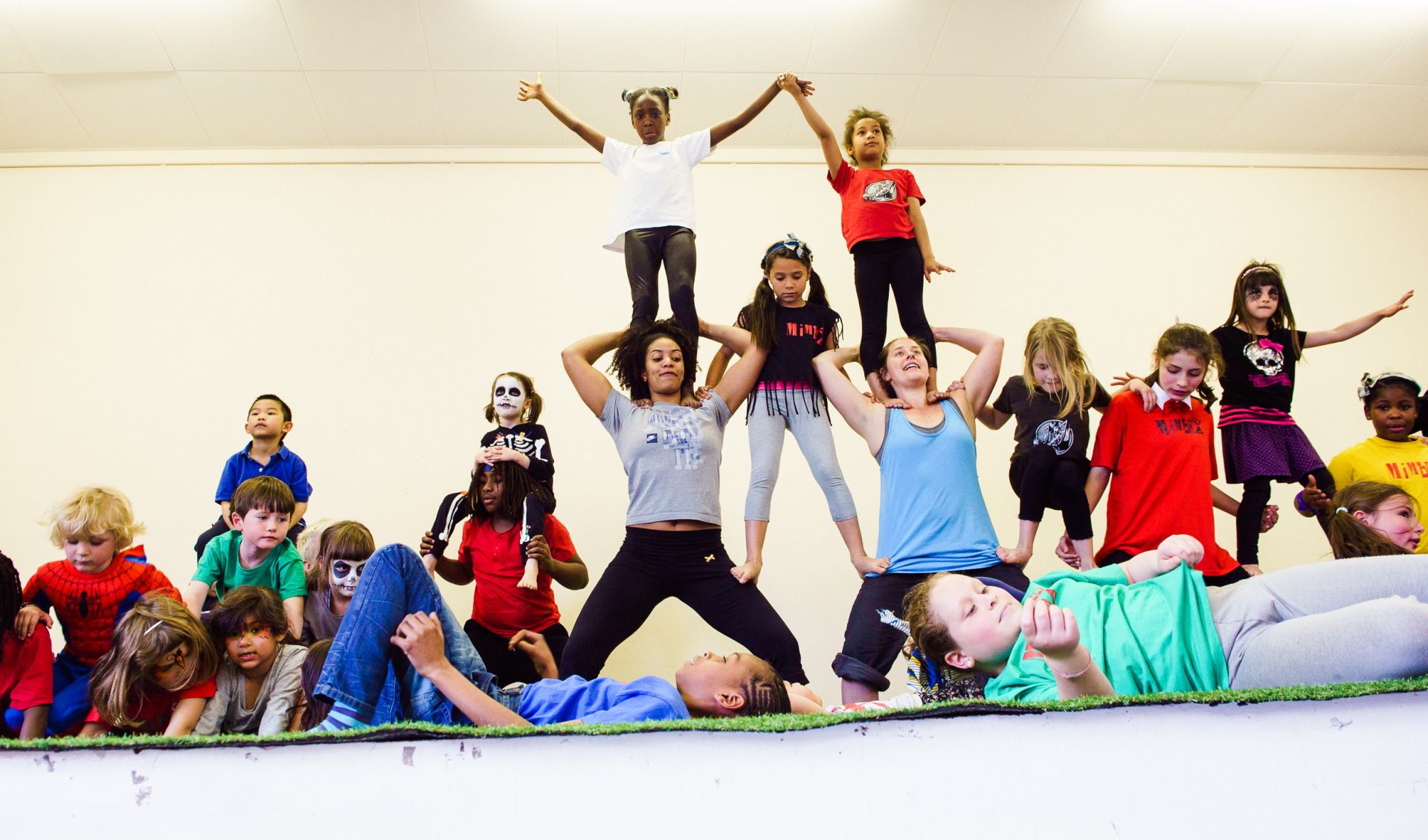 28 May

Face paint & Monsters: End of term community day at Milton Gardens

One of the things I love the most about my job is organising the community days. If you've never been to one of ours, you're really missing out on a big dose of instant happiness.

The focus this term was to let the children come up with their own routines, learn how to channel their creativity and get in tune with their bodies. Organising a community day/performance was the perfect way to end the term and celebrate the children's achievements. Throughout the term the little ones were asked to come up with characters inspired by monsters, and the older ones were given total freedom to choreograph their short pieces using their dance and acrobatic skills.

Another aspect I love about organising community days – is how it brings everyone together. There was a palpable sense of unity and togetherness in the room. Parents were there to give a hand – whether it's drawing up the banners, manning the snacks table (more on that later), or helping with setting up the space. We had loads of hands on deck!

The day started with getting everyone in costume. Amina, one of the mums, very generously donated her time to help with face painting. What was meant to be a quick session for the younger ones (to complement their monster costumes) turned into mayhem. The younger ones demanded elaborate designs (phoenixes, witches, and fairies), huddling around Amina and abandoning positions during rehearsals. Naturally, the older kids retaliated by taking matters into their hands, and started a face paint corner of their own. In short, there was paint everywhere!

After the costumes and face paint war, the younger ones and older ones resumed rehearsing their pieces. With the help of the Bench ladies, they developed a three layer human pyramid, with the little ones and our more experienced kids at the top!
The kids were ready to go on stage, doors opened at 6pm, more parents arrived, and the show was on!
The result was fantastic! My heart swelled up a little, when I saw all the pieces. The children's energy and imagination is highly infectious, we all had a big smile on our faces.
After the kid's show – Silvia, Alcina, & Martha performed an extract from Bench! All eyes were on them and the kids seemed extremely captivated. I'm particularly grateful we were able to program Bench into our community day. I think the ladies are such great role models, and the impact of showcasing such talent to impressionable young people is instant. As soon as the show finished the kids jumped on the bench and imitated the performers…. That is until the cakes and other goodies were served!
The day ended with a major sugar rush with everyone feasting on home-made and donated snacks brought by the community.
I got to talk to a lot of people on the day and here is some of the feedback:
"Congratulations to all of Mimbre on what looked like an amazing experience for the kids – it made me want to be a kid again so I could share in their jubilance! :)" Marcos Avlonitis – photographer extraordinaire
"I loved seeing all the proud parents and little brothers and sisters, all amazed by the tricks on the stage! I was impressed too that before the audience came in, the performers were so busy and chatty and excitable, but the minute they went on stage to perform then were taking it seriously, on count, but of course having fun!" Martha – Bench performer
All images by Marcos Avlonitis