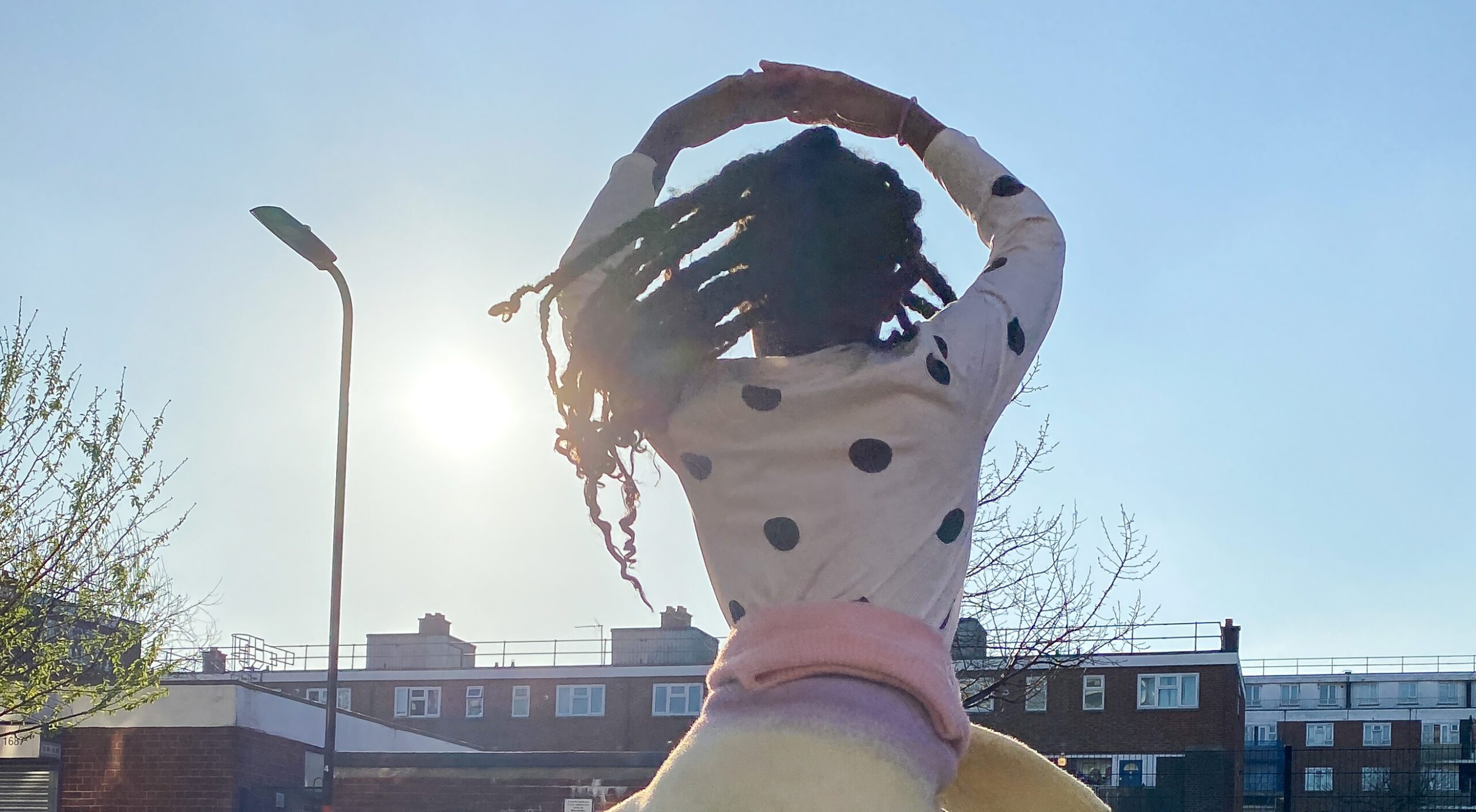 30 Jun

Here comes the summer!

Listing of free summer shows and activities for young people in Hackney and London Summer 2022


Take the chance to come to one of Mimbre's shows at one of these exciting free outdoor festivals in London or to join in with other local inspiring activities for young people and families. Also information about food deals and support for families over the summer.
Free shows and festivals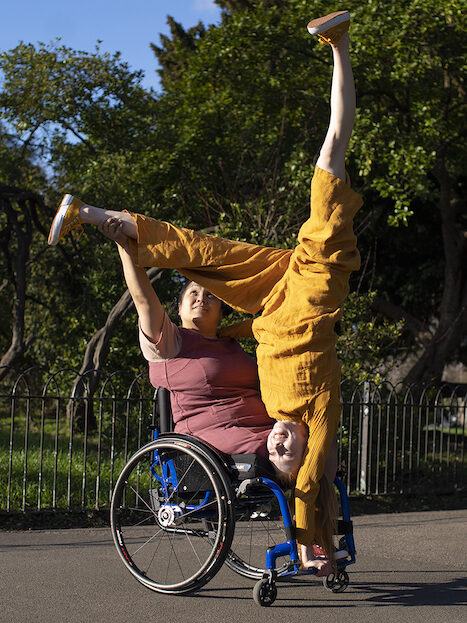 Mimbre performances:
Our co-production Look Mum, No Hands! with Daryl Beeton Production, a Disabled-led physical theatre company, is performed across a couple of exciting, outdoor festival this summer alongside a free programme of other wonderful performances! Look Mum, No Hands! is a tender story about friendship and growing up. It explores a visually beautiful, and physically surprising, coming-of-age story about two friends testing their own boundaries.
+ 27 August, Greenwich and Docklands International Festival
GDIF provides 18 extraordinary days of free theatre, art, dance and circus in London, between 26th August and 11th September, and as well as our performance there are plenty of other shows worth travelling east for. We can particularly recommend CROWD_CTRL by AndroidX + MHz celebrating the Afrobeats movement in a high impact dance, sound and visual experience which will be shown Saturday 3 September, Saturday 10 + Sunday 11 September. And one of their dancers is due to come as a guest teacher to Mimbre Youth for the autumn term!
Showtime: 13:45 & 17:00
Location: Monument Gardens West, SE
Info; https://festival.org/gdif/whats-on/look-mum-no-hands/
Other free London festivals this summer:
Kensington and Chelsea Festival
A season of magic and shared experiences of live performances and arts. From 1 July – 31 August, the Kensington and Chelsea Festival will bring people together to celebrate, inspire, and be inspired. Full programme on https://www.kcaw.co.uk/kc-festival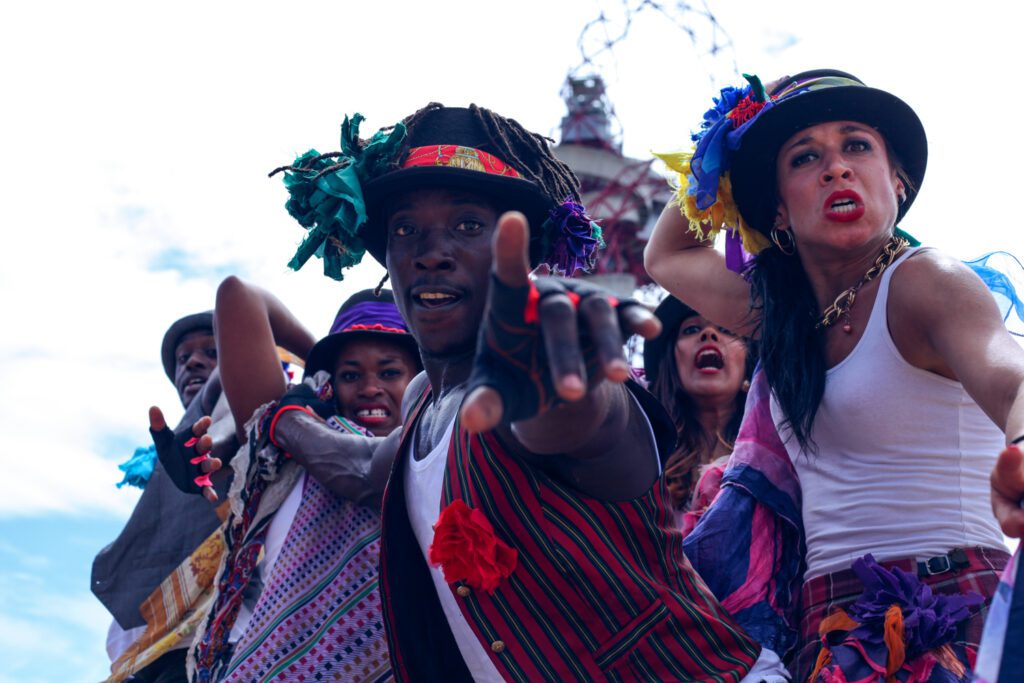 Folk Dance Remixed
Our wonderful dance teacher Natasha Khamjani's company Folk Dance Remixed had performances and street-dance Ceilidhs (dance-alongs) as part of Greenwich Summer in the Park on 22 July and they sure got the summer holiday started!
Keep an eye on their website for other activities later in the summer: https://folkdanceremixed.com/dates/
Workshops and local events
Young Hackney Activities
Keep an eye out for Young Hackney's summer activities, which you can find on here: https://www.younghackney.org/
Summer Holiday Programme 25 July – 26 August: Young Hackney's summer holiday programme for young people aged 6 – 19 (25 with SEND) takes place over five weeks. There are limited places available, so they encourage children and young people to book their place in advance by contacting their preferred hub.
Summer Activities Guide: We recommend you also have a look at and download their Summer Activities Guide – it's packed with free activities for children and young people* to get involved in throughout July and August.
* 0 – 19 years old (up to 25 with a special educational need and/or a disability [SEND])
Hackney Carnival and Carnival Camp
Take part in eight days of FREE summer fun for young people aged 5 – 18, between 26 July and 5 August! Register for Carnival Camp.
Hackney Carnival is taking place on Sunday 11 September 2022 and they would love young people to be involved! Find out more about Hackney Carnival and how to get involved.
Tropical Isles Carnival Summer Camp in Hackney
Join the fun for the Carnival Summer Camp, between 20th July-11th August at the Geffrye Community Centre for Free Flow Play, Dance, Science, Cooking, Carnival Arts & Crafts and Sports activities. The summer camp runs July 20 11:00 am – August 11 3:00 pm.
Find out more: https://tropicalislescarnival.org/event/carnival-summer-camp/

Pop-up Playground in Gillett Square
Every week on Friday 3.30-6.30pm and Saturday 2-6pm Gillett Square will transform into a playground for children and families to enjoy thanks to our unique play equipment SNUG.
Find out more: http://www.gillettsquare.org.uk/events/
The Place:
has a few films for a rainy afternoon in (though it looks like there won't be many of those this summer)
Second Hand Dance – Getting Dressed Films. Available until Sat 6 Aug: https://youtu.be/536HbAVnr68
Reza Ben Gajra- Family Dance Day 2022 Animation: https://youtu.be/6MV9ZXtnfkM
Coming soon…
We will continue to collate any other exciting holiday projects, festival or performances here that we hear about and think our young Mimbrettinis might enjoy. If you see stuff you think it's worth sharing please do send us on info@mimbre.co.uk
Summer support for families

To help tackle holiday hunger at a time when the cost-of-living is higher than ever, children aged 16 and under can access a hot or cold meal for just £1 at Asda cafes.
Asda has announced that, in a bid to keep children fed over the summer holidays, they'll be able to grab a meal at their in-store cafes seven days a week, with no minimum adult spend requirement. The Kids Eat for £1 initiative is available all day, every day from July 25 until September 4 in England and Wales, as long as the café is open. And dependent on the store, a hot meal or cold meal, or both, will be on offer.
Examples of other meal offers below: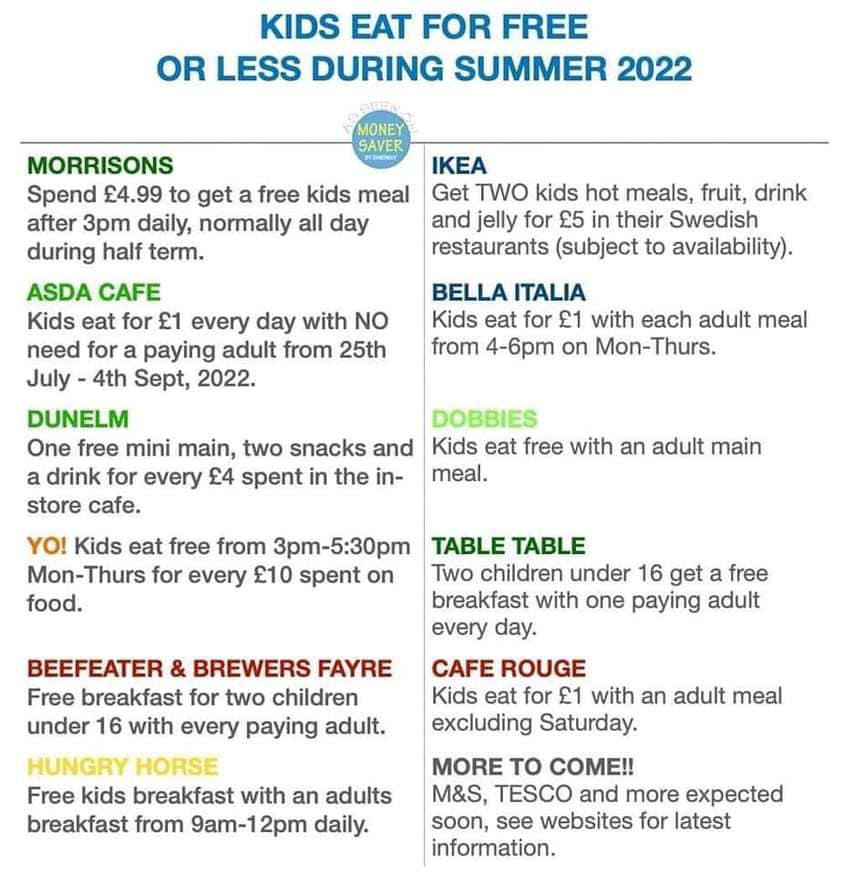 Please nominate us

We're looking for opportunities to make sure we can continue to provide our Mimbre Youth classes in Hackney. If you have a moment to do so, please nominate our charity (Mimbre Ltd) to be considered for a Movement for Good Awards: https://benefactgroup.com/movement-for-good/
Past events
Look Mum, No Hands at Ensemble Festival by Certain Blacks, 23 July
The Certain Blacks Ensemble Festival will feature circus, music, performance and live art, created by artists working outside of the mainstream and celebrating diversity.
Showtimes: 12.35 and 3.30pm
Location: Royal Victoria Docks, Western Gate Way, London, E16 1FA
Info: https://certainblacks.com/portfolio/daryl-beeton-productions-and-mimbre-look-mum-no-hands/
And you can find the full programme of the festival here: https://certainblacks.com/ensemble-festival-2022/
National Centre for Circus Arts Community Open Day 23rd July 2022, 12 – 4pm
National Centre for CIrcus Arts down in Hoxton is opening their doors for families and community groups from the local area to explore what goes on in their circus school. Join them for an afternoon of fun, FREE activities to watch circus artists training, have a go at juggling, make your own juggling balls or book a free aerial taster session!
Having a go at different skills will be FREE on this day to anyone who wants to. You don't need any prior experience, and you will be able to try out most skills on a drop in basis.
Their Aerial skills tasters will be timed, and will need to be booked in advance. To secure your place, complete their booking form and find out more about the day on: https://www.nationalcircus.org.uk/openday/
River Stage Festival 2022 in South Bank
National Theatre's River Stage festival returns to the South Bank, over five weekends from 15 July to 14 August, bringing you 5 weekends of extraordinary entertainment. One to look our for: Hackney Empire Young Producers will be performing there over the weekend of 29-31 July 2022.
Find out more: www.nationaltheatre.org.uk/shows/river-stage-2022
Auditions for Hackney Empire Young Artist Development programme
For 14 – 19 years old interested in musical theatre and the performing arts:
Would you like to spend two weeks creating a piece to be performed on Hackney Empire's Main Stage this summer?
If so, auditions for Hackney Empire's Artist Development Programme are now open!
Apply by Saturday 23 July 2022: https://hackneyempire.co.uk/whats-on/adp-auditions-2022/?dm_i=6NIJ,J91M,29UI4O,2CTVB,1