25 May

Our approach to: Tour rehearsals this year

We are very excited to announce the beginning of our tour of Lifted for summer 2021, with our first performance coming up this weekend, at The Lowry in Salford! Before we head out on the road, we wanted to quickly share about how we approached our rehearsals and tour preparations.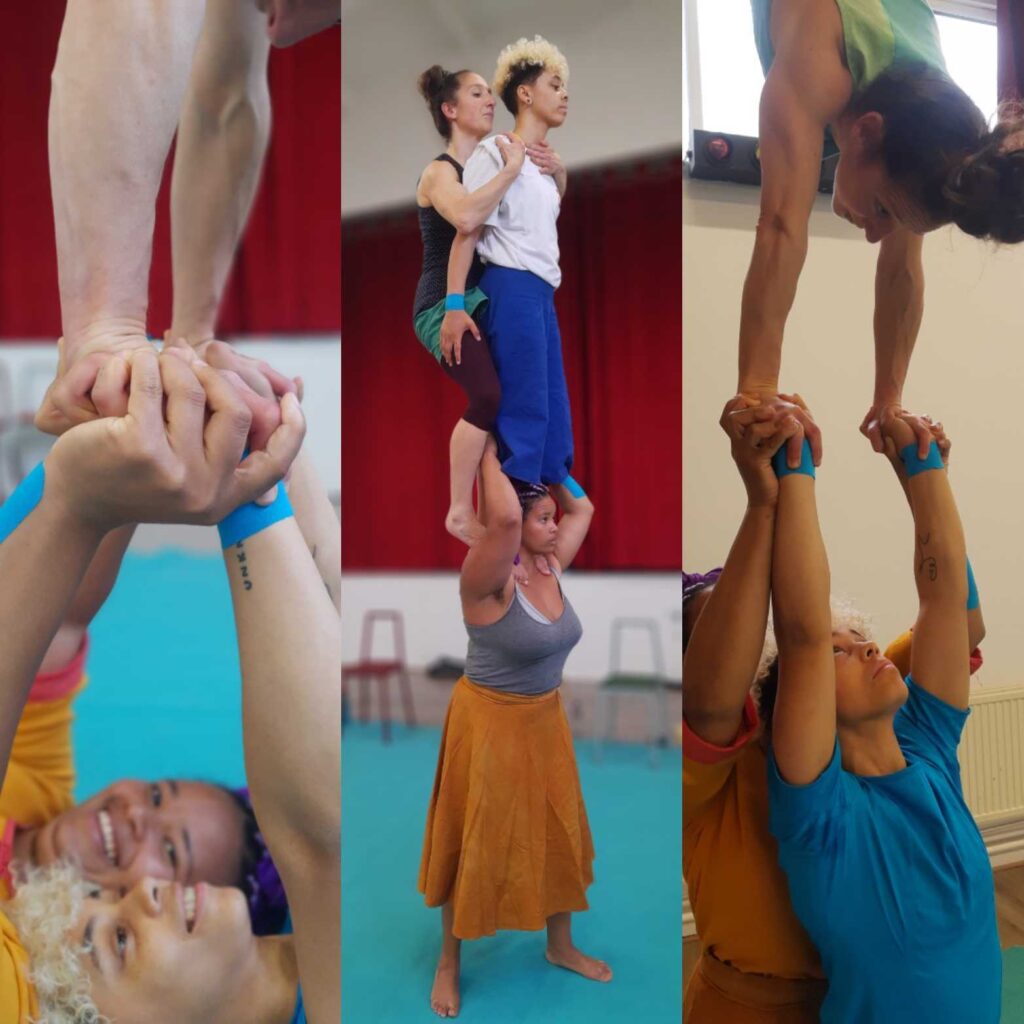 After a lot of consideration, we decided to work with full physical proximity and contact for Lifted this summer. This was decided in discussion with the performers and by creating a 'fixed team' for work purposes.
Several different factors were taken into consideration:
+ checking what the performers felt comfortable with,
+ checking that none of them were clinically vulnerable or caring for anyone vulnerable (in which case we would have established a different approach),
+ deciding to work with a very small team of only three performers and a director (of which half had recently had Covid-19 and half were already vaccinated with their first dose),
+ committing to monitoring our local areas to make sure the number of positive cases are low.
What also made a difference in the way we made our decisions was that the tour is going to outdoor festivals and events. Also, to be honest, the fact that physical contact and proximity is so crucial to our skill-set played a role too.

We still have a Covid-19 protocol in place, with everyone doing two rapid flow tests a week and a full PCR test if any one member of the team feels unwell or if recommended to do so through local surge testing. We try to keep the rehearsal space as safe as possible from external exposure, washing hands when getting in, wearing masks in public areas, limiting people attending rehearsals, regular airing, cycling or walking to rehearsals if possible and so on.

We are not immunologists and we know people will have a lot of different and possibly strong feelings about whether this is the right thing to do or not. But we have thought of it as a way of managing life with the virus for the foreseeable future. We are trying to be sensible and responsible in our approach to it, while at the same time finding our way back to work.

Externally, our two Artistic Directors have worked on projects this spring that have taken different approaches and implemented different restrictions from ours. We would like to highlight that, as always, we are happy to share our experiences and reflections with anyone looking at different options for their rehearsals and productions; just get in touch.
And for those of you who manage to catch us this summer, we hope you enjoy the show. We cannot wait to finally make eye contact with our audience!