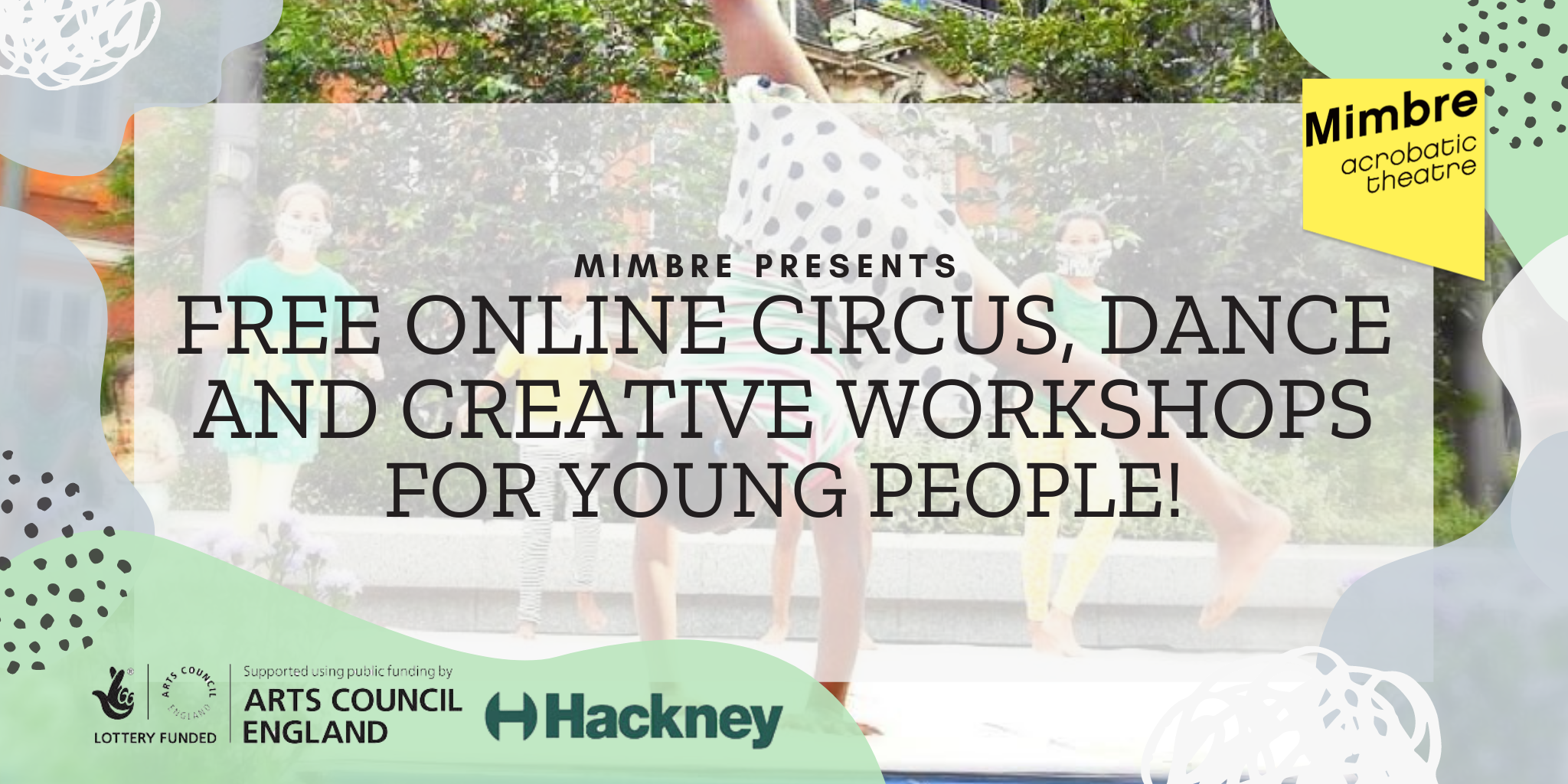 15 Jan

Mimbre Youth Classes

If you want a little change from the lockdown schedule join the Mimbre Youth Programme this January – March for a new term of online workshops in a variety of dance, acrobatics, circus and creative skills.

This term gives participants a chance to learn a variety of different skills and to create their own choreographies. Each workshop is self-contained, so the young people can join one or all of the workshops for those who want to there will also a chance to create a short Zoom performance to show off their new skills to families and friends at the end of the term!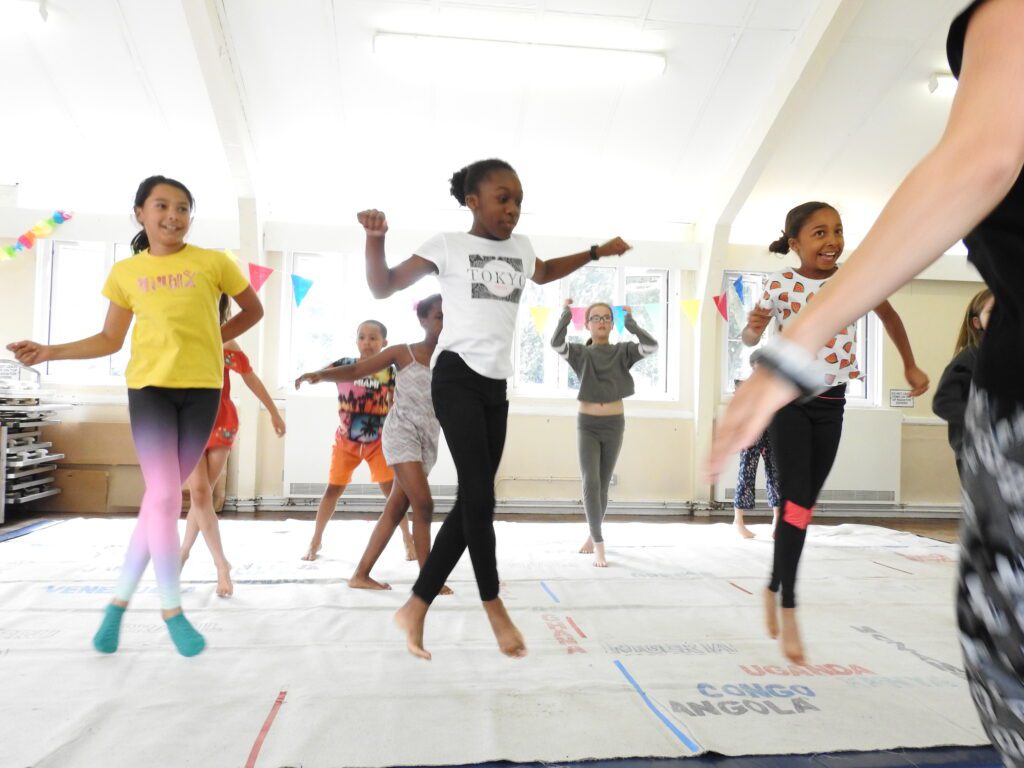 Dates and sessions
The online sessions will take place on Tuesdays from 19 January –30 March!
Skill sessions include sofa acrobatics, breakdance, juggling, We will update the full exciting schedule below!
Details
Date: Tuesdays, 4:30-6:00 PM
Location: On Zoom
Price: Free or on donation basis
Age recommendation: 8-14 yrs
Please email us if you have younger ones who would like to join. Slightly younger children who want to take part are welcome as long as there's an adult available to help them.
How to attend
To sign up for the workshops, please follow this link.
If you have any questions about the project please get in touch with us by emailing education@mimbre.co.uk.
Full Schedule
Tuesday 19th January: Streetdance with Natasha Khamjani: warm up your body and express yourself with contemporary dance! Natasha will get us going with some fun games, funky warm-up, some dance videos to inspire your own creativity and then some steps and moves that you can use to create your own choreography!
Tuesday 26th January: Sofa acrobatics with Arielle Lauzon: Are you looking for a fresh way to look at your couch? Learn acrobatic tricks that you can perfect and perform on your sofa and create your own little choreography with it. Different difficulty levels will be provided!
Tuesday 2nd and 9th February: Beatboxing and streetdance with ABH Beatbox and Natasha Khamjani: Learn how to beatbox with none other than the current UK Beatbox Champion! Once your lips are tired learn how to dance to those natural beats you're sure to be a pro at after two consecutive sessions!
Tuesday 16th February: Break for Half-Term: no class today.
Tuesday 23rd February: Breakdance with Bboy Lil Tim: whether you're new or already have some breakdance tricks up your sleeve we know you'll love this session with Bboy Lil Tim. This class is suitable for both beginners and the more experienced dancer as sessions are tailored to each individual's ability and skills. Lil Tim focus on the foundation of breaking, developing upper body strength and stamina and the all important element of free styling.
Tuesday 2nd March: At Home Acrobatics with Lina and Silvia: Mimbre and the Mimbre Youth are known for their distinctive acrobatic style, so who better to learn the basics from if not the co-founders of the company?
Tuesday 9th March: Juggling
Tuesday 16th March: Set Model Box design with Rhiannon Newman Brown: Design your own future circus stage! Take inspiration from traditional circus or create a new modern style and vibe to your familiar circus stage, a place where beatboxing, streetdance, juggling and acrobatics can all fit together. Art materials at the ready: pencils, papers, cereal box, scissors (if there's an adult around), glue stick and maybe that old sock with a hole, who knows you might give a new glorious life and design the circus of your dreams!
Tuesday 23rd March: Streetdance and Acrobatics class: a creative recap, games and chat with Natasha Khamjani and Lina Johansson.
Tuesday 30th March: Streetdance and Acrobatics class: an end of term digital celebration with Natasha Khamjani and Lina Johansson.
We really hope to see you at one or more of our classes!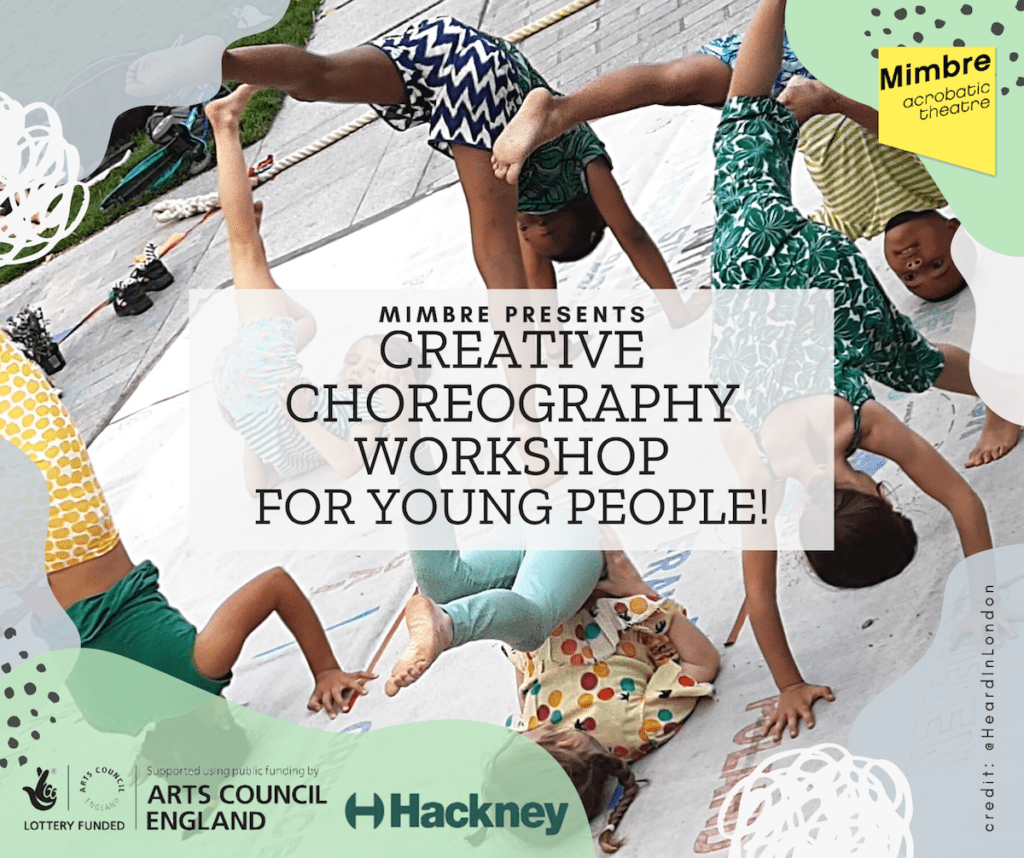 How to support our classes
Donations
In recognition that everyone's circumstances are even more different than before, we will go ahead with these classes on a pay-what-you-can donation basis. The classes are free and available to everyone, but if you do enjoy them and you are able to pay we would really appreciate donations towards us paying the teachers!
For people who still have a job and an income, we would really appreciate weekly donations towards paying our teachers, but for people struggling with money at the moment, then pay-what-you-can might be nothing and that's ok too. Pay what you can according to your circumstances! Whether that's nothing, 50p, £5 or more to support others' participation. Thank you to those who have already so kindly donated!
We just want to see everyone again and provide what we can in terms of some physical and creative activity to all stay healthy both in mind and bodies.
Other ways to help us
You can also support us by generating donations when you shop online for gifts and more via @GiveasyouLive Online. So, if you are shopping online this Festive Season, please support independent businesses, and use Give As You Live to help us out at the same time, (fundraising for Mimbre with no extra cost to you).
If you use Amazon you can also support a charity of your own choosing while you shop on Smile.Amazon, you can find us as Mimbre Ltd.