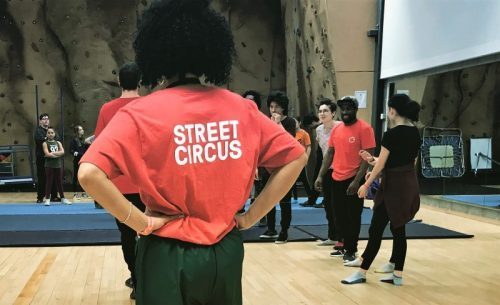 23 Apr

Roundhouse Street Circus Exchange

On 3rd April four members of Mimbre's Youth programme had the honour of joining some of London's most fun and adventurous Youth Circus Pioneers as part for the Street Circus Exchange hosted by the Roundhouse.

Our team of intrepid tumblers were treated to DJ classes where they learnt to mix and scratch, parkour, free running and acrobatics coaching from a team of Roundhouse experts and street dance classes where the energy and moves flowed.

A quick dash around the Roundhouse during our lunch break allowed us to experience circus in Virtual Reality and have people tumbling at us form all angles.

We then participated in a really interesting discussion about how to be an artist, how to make your own path and what career options are available and what brand new gates can be vaulted over using circus and then had a group sharing of all of the incredible physical skills we had learnt that day.

Our diablo super star Leo said "I was really interested to hear about the circus agencies, I had never really thought about circus artists having agents before."

To complete the day we were treated to a dazzling display of dexterity, strength and beauty from Pirates of the Carrabina and their show Relentless Unstoppable Human Machine.

Exhausted, full of pop corn and new connections with other youth circus groups from across London, and still cartwheel out of the door, quite literally, we had a wonderful day. Thank you to the Roundhouse and everyone involved in creating such a fun educational day.