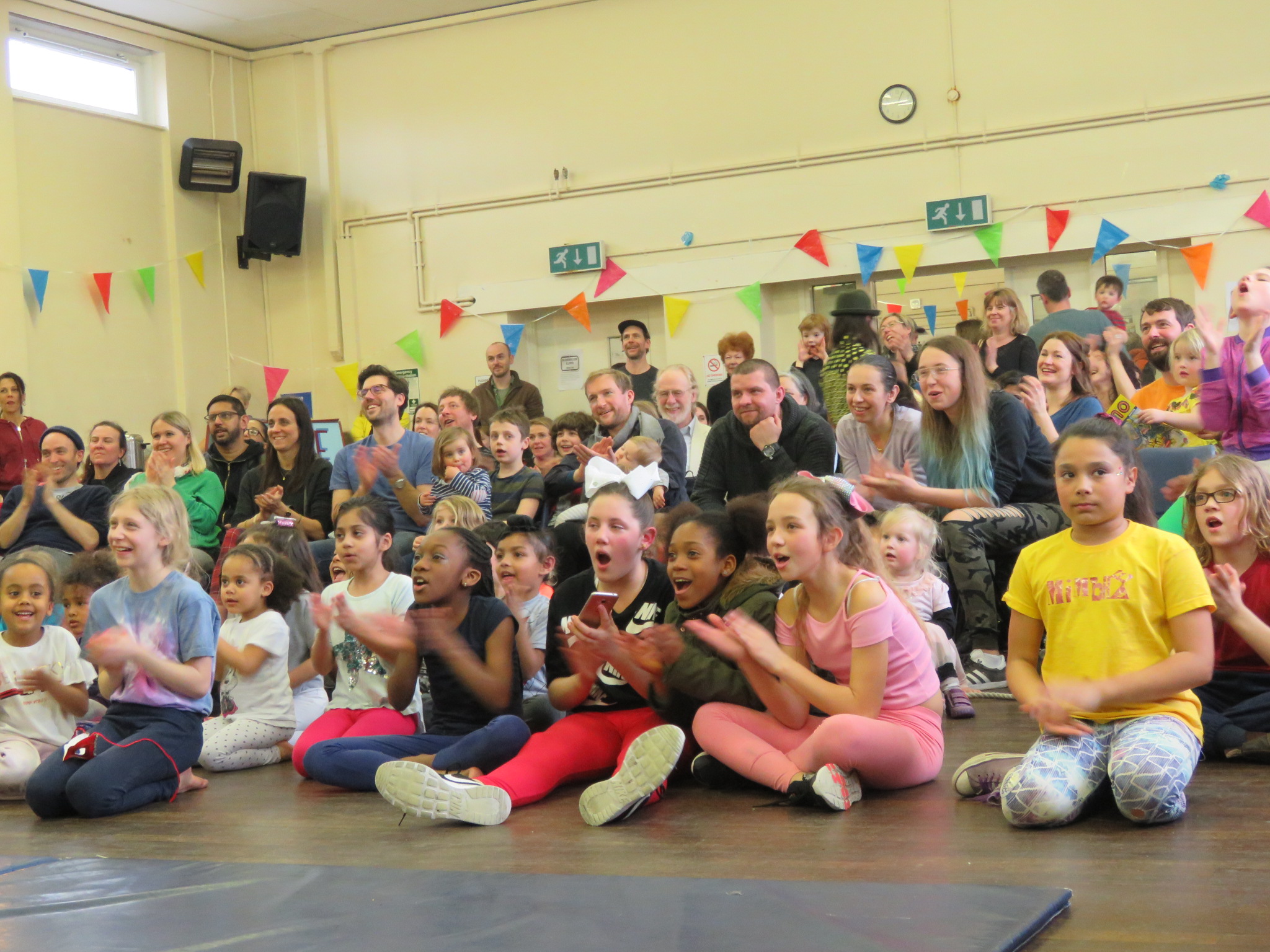 05 Apr

Youth Programme End of Term Celebration
On 24th March amidst bunting and balloons, a team of avid circus fans were preparing to dazzle friends and family with the skills they had been learning on Mimbre's Youth Programme.
As the buzz was building, scarves were being tied, costumes adjusted and face paint and glitter applied.
The doors of Milton Gardens Community Hall were flung open to a joyful barrage of circus workshop equipment flying through the air. Residents and friends were taught new juggling skills and balancing techniques and got the opportunity to practice hula hoop and the art of the pedal go.
An excited audience gathered to see the young people from Mimbre and all they had been learning for the past few months. In fabulous team displays of street dance, tumbling, juggling, acrobalance and hula hooping, our young experts were able to show their community all the incredible skills they had been dedicating themselves to over the past few months. We are really proud of all the the efforts everyone made both in the show and their commitment to the learning of new and tricky things.
We were all then treated to an incredible show of acrobatics and hoop jumping skills by Arielle Lauzon who is one of the cast members of Mimbre's new show this summer, The Exploded Circus, and a hilarious display of dexterity from (T)hat Juggler, Ian Marchant.
The whole event culminated in a mass dance where parents break-dance-battled against the younger ones with slightly more nimble knees, whilst some of the rest of the audience feasted on incredible waffles provided by Ali and her team and a generous selection of homemade cakes and treats brought by parents and guardians.
Plates were spun, cartwheels were whirled, juggling balls were thrown, circus scenes were coloured in, faces were painted and ice cream was eaten.
Thank you all for participating in such a joy filled fun day. We hope to see many of our young people at shows throughout the summer.
Many thanks to Milton Gardens TRA, London Borough of Hackney, our crowdfunding supporters, our volunteers and all the families of the young people for their help this year!